We had a great weekend of fun and family. My father-in-law is in town to celebrate his 90
th
birthday (pics of that to follow). We decided to have a little Easter Egg hunt before his party and these were some pics of the kids having fun. I am sharing these with the blog Simple As That at her
The Simple Things That Make Me Smile
linky
party. How can you not smile when you see these kids having so much fun ?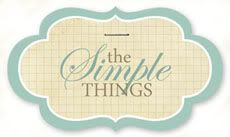 Here is George with his first egg!
Even the 13 year old, Brooke, gets in on the fun.
Connor finds and egg under the bush.
Charlie is a ham for the camera.
Somehow, I did not get a picture of Mike, the 11 year old.
He was off finding the really hidden ones.
I also had some good luck at garage sales and thrift stores this weekend.
However, this table and chairs were in a booth near mine and
she was having a huge markdown sale. Couldn't resist.
Another ice bucket found at a garage sale. It's will receive a makeover soon.
A simple wine rack will look better with paint.
The following pics are from my kids grandpa's barn.
They just recently were given some old things to sell or keep,
these are the things we are going to try to sell.
An old phone box.
A butter mold.
An iron rest.
A coffee mill.
A very vintage toaster.
I am linking these vintage finds to:
Apron Thrift Girl